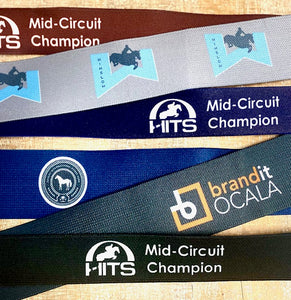 Full Custom Belt
Regular price $55.00 Sale
Ever dream of an ACE belt in another color or specific pattern? Now you can order whatever design you want!
Send us your logo or design and we'll create a one-of-a-kind printed belt for you! (we can also help with the designs upon request)
PLEASE REVIEW THE BELOW INFORMATION BEFORE PLACING AN ORDER: 
-Custom orders can take up to 4 weeks for delivery. Each order will vary depending on design and quantity. 
-All custom belts are final sale. They are not eligible for a return.

- Patterns, logos, initials, etc. accepted. (Please note, we do our very best to make all custom orders work, but not all logos will fit or appear clearly in such a small space. If you're not sure about your design, feel free to reach out to us to check before ordering.)
- Design must be sent in jpg, png, or pdf format to info@ace-equestrian.com. (We can also help with designs)
- 2" width is standard belt width. 1.5" may be available upon request. 
- Once your order is submitted, we will reach out directly to discuss design details. 
- Questions before ordering? Email us at info@ace-equestrian.com